Recently it came to my attention that a page we manage was unable to do Live videos on the Zuckerberg book of faces. This created a difficult situation and there was no obvious reason WHY the account was unable to post. Until I got home and finally started digging into the WHY and WHEREFORE of the situation.
After checking for messages or notifications on the pages involved, nothing was obvious. It wasn't until I took a look at my account that the tag "Account Restricted" came up. Clicking the "Why?" link brought this bit of humor to light, a bit of humor that shows that it was grounded in fact.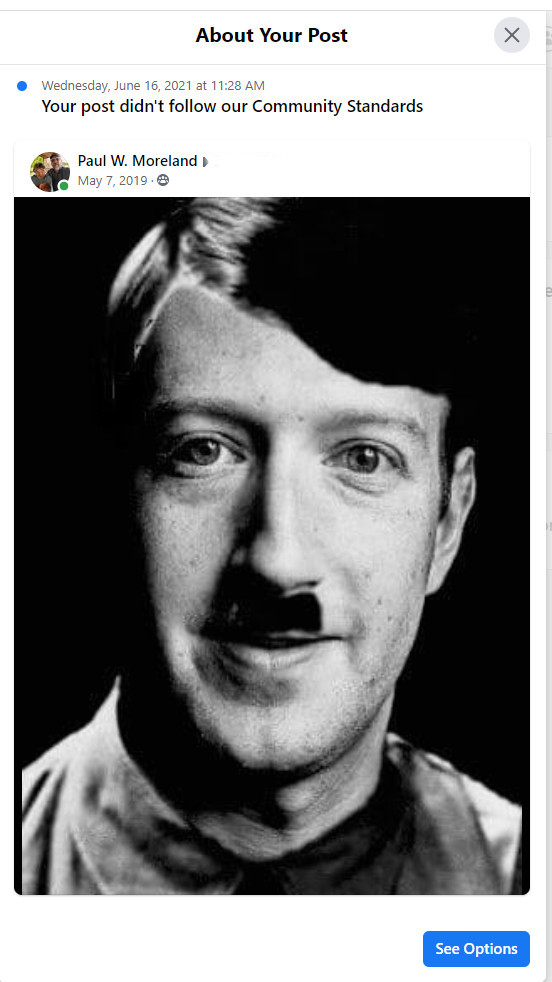 Well, there you have it. A post made TWO YEARS AGO in a private group, not visible to the general public, was deemed "inappropriate" by the censors that be. Pointing out the obvious that the place is run by Fascists who will do their best to destroy those who disagree with them is "against community standards". You can criticize and even threaten the most recent ex-president all you want, but don't make fun of the Chief Fascist in Charge of Community Standards – or they'll shut you down.